Affiliations
Akhil Bharatiya Gandharva Mahavidyalaya Mandal (ABGMVM)

Tabla Niketan has recently received affiliation from the premier authority in Indian music training, 'Akhil Bharatiya Gandharva Mahavidyalaya Mandal (ABGMVM)'. Tabla Niketan has become the affiliated examination center of ABGMVM in Bay Area and West Coast, California.

ABGMVM conducts exams in the following art forms :

Tabla, Pakhwaj, Flute, Sitar, Harmonium, Keyboard, and Violin
Hindustani Classical Vocal
Hindustani Classical Dance (Kathak & Bharatnatyam)
Exam sessions :
There are two exam session every year, April-May session and November-December session. A student can appear only in one exam session in a year for same art form. However, a student can take exams in both the sessions for different art forms. Students graduate when they complete total seven levels and further two levels for completing Masters level. The levels are named as follows :

Prarambhik, Praveshika Pratham, Praveshika Purna, Madhyama Pratham, Madhyama Purna, Visharad Pratham / Upantya Visharad, Visharad Purna.

However grading of Visharad is based on the total marks of level 6 plus total marks of level 7 put together.

Alankar – Part I, Alankar – Part 2



Recommendation Letter :
Recommendation letter by Guru to skip 1st exam and directly appear for 2nd exam


Introduction to the artists / teachers associated with ABGMVM in the Bay area :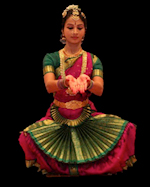 Roopa Anand
Roopa has been trained in the field of Bharathanatyam under the tutelage of Smt Nirmala, Sri K R S Prasanna and Guru Bhanumathi . Roopa has achieved a distinction in the Proficiency grade (Vidwat) in Bharathanatyam conducted by the Karnataka Secondary Education Board. She has many performances to her credit that have been acclaimed far and wide.

Roopa performed her Arangetram in 1993 Roopa has her own dance school Nrityaarpana, located in West San Jose, imparts training in the authentic form which covers both the theory and practical aspects of dance in one of the most asthetic styles.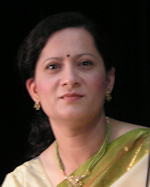 Anupama Chandratreya

A Masters Degree holder in Hindustani Classical Music, Anupama Chandratreya is a versatile vocalist in the San Francisco Bay Area. Anupama's repertoire includes a wide variety of all Gayaki (singing) styles including Hindustani Classical, Light Indian Vocal, Ghazal, Bhajan, Bhavgeet and Folk music.

Anupama is one of the few vocalists with unique ability to excel in more than one particular style of vocal music. Anupama is a rare combination of natural talent and grace, with an uncanny ability to sing in a way that speaks to your heart.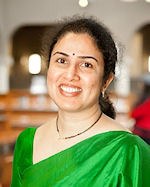 Suparna Dangi

Suparna's singing was aesthetically shaped by Pt. Ratnakar Pai, a revered singer from the Jaipur Gharana. She is a Gold Medalist from Mumbai University (music) where she was blessed to be under the tutelage of Pt. Ajay Pohankar & Pt. Vidyadhar Vyas. She is a recipient of Pt. Bhimsen Joshi Scholarship & Saajan-Milap Scholarship. Among her many achievements are Zee Tv's SaReGaMa 1995 and Sa Re Ga Ma Pa – World Series 2004. She has also participated in Zee Tv's "Close-up Antakshari" and "Colgate gel Yoodleoo". She is also a licensed examiner for the Akhil Bharatiya Gandharva Mahavidyalaya.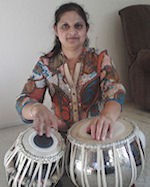 Rama Garimella

Smt. Rama Garimella showed interest in singing bhajans and playing dholak at a very early age. Her father seized upon her interest and put her under the tutelage of Sri Ramdas Vaishnav, a renowned tabla player in Jagadalpur, at the age of 12. Later, she earned her B.Mus. in Tabla from Indira Sangeet Vishwavidyalaya, Khairagarh.

Rama furthered her training under Sri Ravi Gutala for couple of years. Presently she is taking advanced lessons from Pandit Swapan Chaudhuri at Ali Akbar College of Music, San Rafael, CA.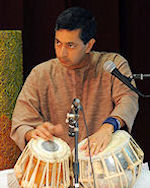 Ravi Gutala

Ravi Gutala was initiated at a very early age into Tabla. Currently he resides in San Jose, California and has been studying Tabla under Maestro Swapan Chaudhuri at the Ali Akbar College of Music in San Rafael, CA for the past 18 years. He also has been teaching Tabla to a number of aspiring students in the Bay Area.

Ravi has accompanied many noted artistes such as, Pt.Jasraj, Smt.Lakshmi Shankar, Dr.L.Subramaniam, Pt.Buddhaditya Mukherjee, Smt.Veena Sahasrabuddhe, Ustad Shujaat Khan, Shri Sanjeev Abhayankar, Master Shashank etc.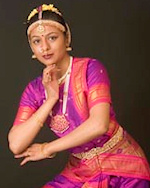 Shraddha Jogalekar

Shraddha Joglekar has been learning Bharatnatyam from the age of 2.5 years. She received her early training from Guru Upadhye in Karnataka and later from Guru A Soudamini Rao. At present, she is learning from Guru Swati Daithankar. She began teaching Bharatnatyam at the age of 18 in Pune, India and later continued teaching in San Jose, CA. She had her first student's Arangetram this year and is very honored to have been invited by Maharashtra Cultural Center, Pune to perform her production, "Tichi Goshta" along with her student on 24th Dec. 2011. At present she is also learning 'Mridangam' from Guru Shri. Ramesh Srinivasan.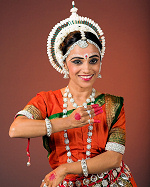 Gayatri Joshi

Gayatri Joshi is an accomplished Odissi Dancer, Creative Choreographer and inspiring Teacher. She has been learning dance from early child hood with different teachers and formally started learning Odissi from Late Guru Hare Krishna Behera and later settle with Guru Jyoti Rout after moving to California in 1997. She has performed internationally in various prestigious festivals including SF Ethnic Dance Festiva, Konark Festival and many more. She is a full time software professional at Silicon valley and has worked many IT companies including Hewlett Packard. She along with her friend Kuku Das have co-founded iGurukul Foundation to promote Indian language and culture here to the second generation kids.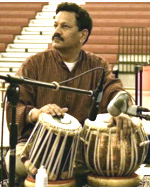 Sandeep Katre

Sandeep started learning tabla at the age of 12 from Mr. Tambe. Later on he learned from Mr. Mangesh Awasare He was also fortunate learn tabla and Dholak from Abdul Karim Khansaheb, a very well-known artist from film industry and from Panduranga Ghotkar a very well-known artist.

Sandeep has performed in many conerts in USA at different places with renowned artists. To name a few, Hridhaynath Mangeshkar, Rahul Deshpande, Tyagraj Khadilkar, Anuradha Paudwal etc. He has also performed with different musical groups such as Mendichya Panawar, Madhughat, Riyaz etc.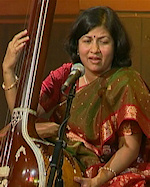 Ashiwini Khaparde

Ashwini started learning Classical music at the age of five from Shashikant Thombre. She took formal training for 8 years in Kirana style from Dr. Usha Parkhi of Nagpur. She also completed "Sangeet Alankar" under her guidance. She also learnt from the leading singer of Jaipur Gharana, Dr. Ashwini Bhide-Deshpande. She also likes to sing various semi classical music types which includes Thumri, Tappa, Dadra, Kajari, Hori. Marathi Natya Sangeet is her speciality. She has performed at various forums in India. After moving to USA, she has given performances in BMM, Basant Bahar, Lotus etc. She is a performer as well as a teacher in CA, continuing the tradition of Indian classical music.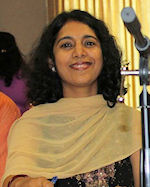 Swasti Pandey

Swasti Pandey is a trained artist and guru in Hindustani classical and light music with over 15+ years of experience. She has earned the degree of "Prabhakar" from Prayag Sangeet Samiti, Allahabad in both - Hindustani Classical as well as in Tabla. She specializes in semi-classical, bhajan, ghazal and Bhojpuri folk.

Swasti is a trained artiste and guru in hindustani classical and light music with over 25+ years of experience. She specializes in semi-classical, bhajan, ghazals and bhojpuri folk.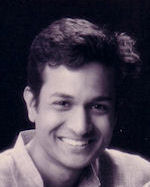 Mandar Pimpale

Mandar started his initial training in Tabla under Shri. Govindrao Parab, Shri. Sapal Jijina and later went on to advance training under the expert tutelage of Tabla maestro Dr. Smt. Aban Mistry.

Mandar has given many solo programs and provided accompaniment to many artists in India and US. He is Sangeet Visharad in Tabla. He is currently based in San Francisco bay area and teaching Tabla to new students. Mandar gratefully acknowledges his recent musical development to Shri Satish Tare and to his friends from music group.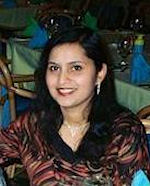 Jaya Sharma

Jaya Sharma learnt Kathak (Lukhnow Gharana) from Performing Arts Faculty of Banaras Hindu University (BHU) India, under the supervision of Mrs. Ranjana Srivastava.

Jaya has been learning Kathak since the age of 5 yr. She have been performing on various Kathak compositions, Folk compositions , Semi-classical compositions.

Jaya is dance director at DanceKarishma. She is affiliated with ABGMVM for Kathak course.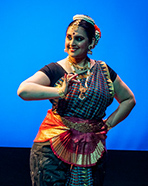 Naina Shastri

Naina received her initial training from Guru Vidwan Shri K.Ramamurthy Rao.

She is teaching dance in the TriValley Area at "Ushanjali School of Dance". She has performed on various prestigious platforms in India and the USA to critical acclaim.

She has also been featured in NBC Bay Area's program, Asian Pacific America.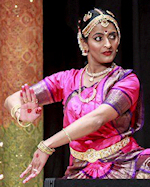 Megha Shetty

Megha Shetty started her training at the early age of 7 from Sri Rajarajeswari Bharata Natya Kalamandir in Mumbai. She had the wonderful opportunity of learning Bharatanatyam from Kalaimamani Guru T.K Mahalingam Pillai. During her course of learning her gurus Guru Vasanth Kumar, Smt Shanthi Shekhar, and Guru Lata Raman also played a very important role.

She has performed in several events organized by her dance school including the dance ballet Krishna Parijatam. She pursued her passion for dance by teaching here. She is the Dance Director of the dance school, "BayArea Nritya Guru". Her students have won various awards in several events here in the Bay area.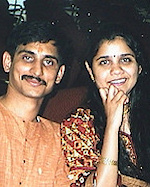 Manoj & Archana Tamhankar

Archana Tamhankar received Masters degree in 1st Class and Sangeet Visharad from Khairagadh University, Jabalpur, Madhya pradesh, India. She received her education from her guru Shri Krishna-ji Toley of the Gwalior Gharana, who himself is a disciple of waggey-kaar 'Tanarang' Pt. Vishwanath Ringe. Archana has received many awards in India for her singing. She is a very sought after teacher of hindustani vocal in the bay area.

Manoj Tamhankar received his basic Harmonium training from Shri Haribaba Khare of Guhagar, Maharashtra. He also has a keen interest in composing music and Times Music has released an album in India of his compositions called "Jay Heramb".

Smt. Archana and Shri Manoj Tamhankar together have been training the young indo-american generation here for many years. Many of their students have been winning prizes in various competitions held locally in the Bay Area.




Tabla Niketan has received ABGMV's afflilation to conduct exams till Visharad.

Click the above image to view the certificate of affiliation from ABGMVM