Featured Artists
Amod Dandge
is one of the highly acclaimed Tabla artists and a worthy representative of the younger generation of the famous Farrukhabad Gharana. He hails from a family with a remarkably musical, cultural and spiritual heritage. Amod was first introduced to Tabla by his elder brother Late Pramod Dandage at the tender age of ten. Pramod laid the foundation for the stupendous intellectual prowess and maturity in tabla-playing which Amod has attained to, over the years. As a versatile, talented, enthused and diligent student, he displayed an extraordinary skill and an amazing progress in Tabla playing. This paved the way for his keen interest and exploration into the various facets of tabla-playing.
Amod received "Taleem" from the renowned Gurus like Ust. Mamhulal Sangaonkar and Pandit Omkar Gulwadi. He is fortunate to receive seena-b-seena taleem (tutelege at intimate quarters) from one of the most eminent and renowned Tabla Artist Pandit Arvind Mulgaonkar. Amod humbly admits that it is due to Mulgaonkar Guruji's taleem, that he could get nuances of six gharanas (styles) in Tabla. He has achieved great honor in solo Tabla performance.
His rigorous training and efforts, his faith in his art, are equally responsible for his success in his sphere. He is also a recipient of the 'Master of Arts' degree in Tabla from Shivaji University, and of the prestigious degree of "SANGEET ALANKAR" ( in Tabla ) ,– he being the first-ever recipient of this degree in his hometown. Because of his twenty years of experience as a teacher in his art, he is accepted as a 'Guru,' the respectable guide, by many of the experts in his faculty and in the various universities in India. Amod's scholarship, his deep study of his subject and his all-round thinking about his art is highlighted in his two books – ' Sarvangin Tabla ' a book written in his mother tongues Marathi and 'Talarnav ' – a book written in his national language Hindi. Entrusted with work of book of Music for Teachers and Students of A.B.G.M.V. Mandal, Mumbai. in respect of Tabla Curriculum.
With vast experience as a Guru, his lectures, workshops are a regular feature in Lalit Kala Kendra, University of Pune and many such renowned institutes all over India. As an Accompanist, Amod has accompanied with a number of Indian Classical singers viz. Shruti Sadolikar ( Katkar ), Dhondutai Kulkarni, Pt. Venkatesh Kumar, Pt. Anandbua Limaye, Jayashri Patanekar, Pt. Poonchwale, Pt. Panchkrishnabua Mattikatti, Malati Bidkar, Pt. Vikas Kashalkar, Pt. Arun Kashalkar, Dr. Raja Kale, Meeta Pandit, Jaytirth Meundi and also Instrumentalist such as Ust. Usman Khan, Shank- Neel, Sudhir Phadke, Maruti Patil (Sitar), Pt. Anand Murdeshwar, Pt. Nityanand Haldipur (Flute), Pt. Purshottam Walawalkar, Pt. Manohar Chimote, Dr. Sudhanshu Kulkarni, Shri.Vishwanath Kanhere (Harmonium), Pradip Barot (Sarod).
Recently, a book named
"Complete Tabla"
, authored by Amod Dandge has been released by Tabla maestro Pt. Swapan Chaudhuri, in California.
Click here
to view the news published in a local news paper.



Sanjay Karandikar is a disciple of Late Pt. Madhav Karandikar, Pt. Shashikant Bellare, Pt. Vikas Datar and Pt. Ramdas Palsule. He ranked 2nd in the All India Ranking for Sangeet Alankar (Tabla) of Akhil Bhartiya Gandharva Mahavidyalaya Mandal in 2003. He is an exponent of Indian Percussion Instruments - Tabla & Dholki. Hw is the founder & director of "Swar-Taal Sadhana" - School of Music, estb.1993. He is among the most renowned teacher of Tabla and Dholki and has over 1000 past and present students from India and abroad. He is an accredited artist for All India Radio and Television. He was aslso selected by Indian Council for Cultural Relations, for deputation abroad as Tabla Teacher and Performer in 2004. He has published books and audio-visual aids on Tabla & Dholki which are extensively used by students.

His stage performances includes Solo performances & "Taalvadya Kacheri". He is an acclaimed accompanist of Tabla & Dholki and has performed with renowned artists such as Smt. Alka Marulkar, Smt. Manjiri Alegaonkar, Shri Shaunak Abhisheki, Shri Anand Bhate, Shri Vijay Koparkar, Smt. Jaymala & Kirti Shiledar, Pt. Yashwant Deo, Shri Shrirang Umrani, Shri CharudattaAphale (Kirtan), Late Shahir Kisanrao Hinge (Povada), Smt. Sulochana Chavan (Lavani).

He has also performed for music tracks of Regional Films, Documentaries and Television serials. He has participated in series "NaadYatra" as Content Expert and Performer, showcasing the intricacies of different percussion instruments. This series was produced by EMRC, University of Pune and telecast on DOORDARSHAN. He has accompanied Shri. Anand Bhate (Disciple of Bharat Ratna Pt. Bhimsen Joshi) in his Vocal programmes during USA tour. He has also conducted Tabla workshops in various cities across USA.





Rupak Kharvandikar is a computer engineer by education, a website designer / consultant by profession and a popular and talented tabla accompanist of the younger generation. His accompaniment is distinguished by an uncanny steadiness of rhythm, the clarity of his bol-s and a heightened sensitivity to the performer's specific needs.

Rupak was born in a musical family. His grandfather Late Pandit Dadasaheb Kharvandikar was a leading harmnonium accompanist who performed regularly with such stalwarts as Bal Gandharva, Pandit Jasraj, Begum Parveen Sultana and Gaan Saraswati Kishori Amonkar.

Rupak has explored the aesthetics of tabla accompaniment for a number of vocal forms like khayal, thumri, dadra, bhajan, bhavgeet and natyasangeet. He has had the good fortune of receiving guidance from the legendary Pandit Bhai Gaitonde for some time.

Rupak has performed at various venues in India and abroad including the prestigious Navras Records Autumn Festival at Bharatiya Vidya Bhavan - London, Jubiliee Auditorium at New Castle upon Tyne - UK.

Rupak has had the good fortune to have accompanied some of the renowned vocalists such as Ustad Raja Miyan Khan saheb, Smt. Asha Khadilkar, Pandit Satyasheel Deshpande and accompanies some of the popular artists of the younger generation, such as Shri. Rahul Deshpande and Shri. Sanjeev Chimmalgi regularly.

Rupak has numerous audio releases to his credit, including the prestigious "Remembering Gunijaan - A Tribute to Pt. C.R. Vyas" by Shri. Sanjeev Chimmalgi, which was an international release by Navras Records Pvt. Ltd, London, UK (2008).

Rupak has also explored some of the other modern variants and techniques of the art such as recordings for Hindi mainstream movies and TV commercials.







Vivek Datar
learnt art of harmonium accompaniment and solo from (late) Pandit Vinayakrao Kale, who was a Gwalior Gharana vocalist. He continues to receive training from well known harmonium soloist and accompanist, Pandita Seema Shirodkar. Vivek is a popular teacher and performer in the San Francisco bay area.
He as accompanied several stalwarts of Indian Classical Music such as Smt Veena Sahasrabuddhe, Kashinathji Bodas, Smt Padma Talwalkar, Shri Madhav Gudi to name a few. Vivek has helped create a new harmonium, called "changeable reedset harmonium", with famous harmonium maker Hinge Brothers from India. He tunes his own harmoniums; gives tuning lecture-demonstrations, and is generally interested in turning theory and applications.
Vivek has created this unique app that helps aspiring singers during their daily riyaaz.

RiyaazPal
is an application that allows you to perform Riyaaz with a perfectly Gandhar Tuned harmonium, is now available.
You can download it on your Apple mobile devices from here
.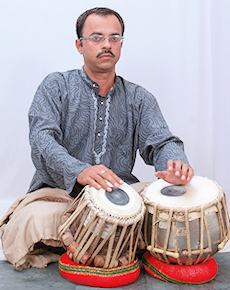 Amod Dandge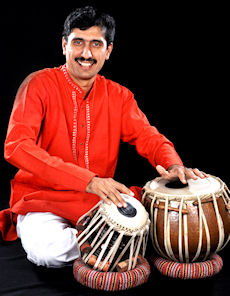 Sanjay Karandikar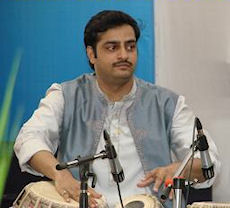 Rupak Kharvandikar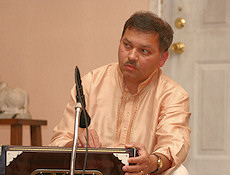 Vivek Datar