About Satish Tare
Madhusudan alias Satish started learning Tabla at a very tender age of 5 from his father Late Shri Madhav Tare who himself was disciple of great legendary Ustad Amir Hussein Khan sahib. Later on Satish got a rigorous training from Pt. Arvind Mulgaonkar ji for almost 15 years in Mumbai. He also got guidance from Pt. Vibhav Nageshkar ji while studying Diploma in Music from Mumbai University. During his stay in Pune, he learned from Shri Vivek Joshi. Currently Satish is taking advanced training from the world renowned Tabla maestro, none other than Pt. Swapan Chaudhuri ji, in California for last 10 years.
Satish have been consistently giving performances both as a solo artiste and as an accompanist to vocal as well as instrumental artistes in California as well as all over the USA.
Satish has also participated in various competitions right from his schooling days and has achieved several awards in those competitions. Among all those competitions, the south central zone cultural festival held in 1989 stands out as a peak of his achievements, wherein, the likes of Rakesh Chaurasiya and Shaunak Abhisheki were among the participants. Satish stood first in the "Percussion" category in the same festival.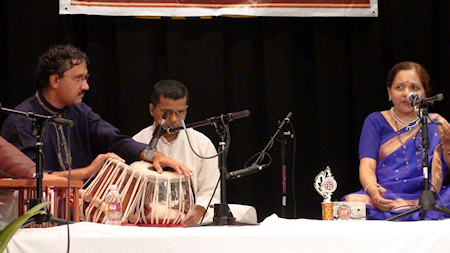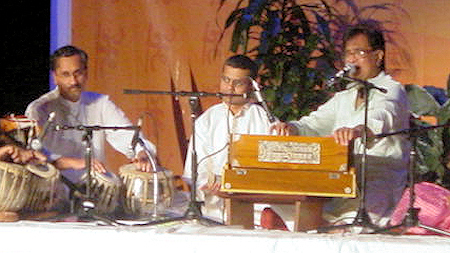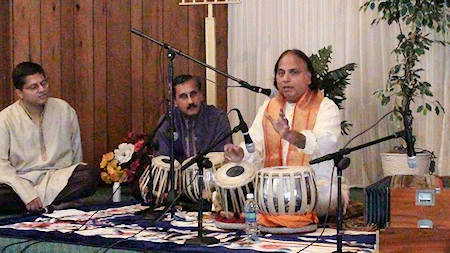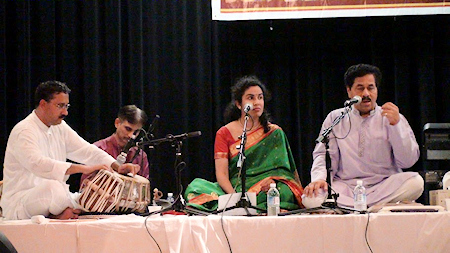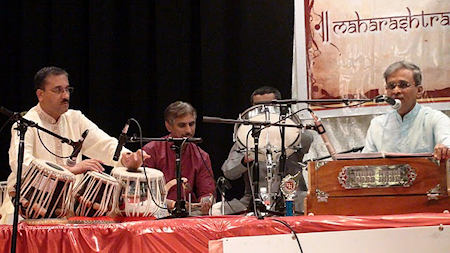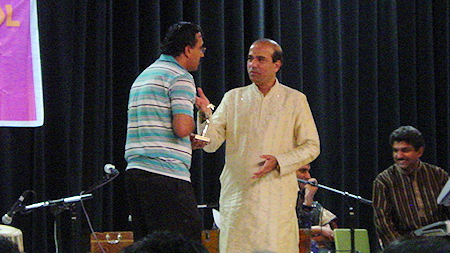 Satish has had the privilege of accompanying several distinguished artistes of the likes of Ustad Iqbal hussein khan, Pt. Suresh Talwalkar Ji in there Tabla ensamble, Pt. Ulhas Bapat, Pt. Satyasheel Deshpande, Pt Ginde, Pt. Madhav Gudi Ji, Shrimati Neela Bhagwat, Shaunak Abhisheki, Pt. Hrudannath Mangeshkar, Shri Shridhar Phadke, Shri Ravindra Sathe, to name a few. It was his privilege to perform in Tabla Ensemble conducted by Pt Swapan Chaudhuri Ji on 84th birthday of none the great Khansheb Ali Akbar Khan in USA.
Satish has been actively involved in arranging Indian Classical Music concerts in USA. He has sponsored his Guruji Pt. Arvind Mulgaoknar ji for his USA tour. During his visit, Satish arranged his solo as well as Lec-Demo concerts. He has also been privileged to have conducted a week long work shop by great Pt. Suresh Talwalkar ji for last two years for local Tabla students in California.
Satish has future plans to sponsor and invite upcoming artists from India and give them opportunity and open stage to present their art in USA.
Satish has been teaching Tabla in USA for the last 10 years and has earned the reputation of being the most respected Tabla teacher among students based in Cupertino, San Jose, Santa Clara, Sunnyvale, San Francisco, Milpitas, Fremont, Pleasanton, Dublin and other nearby towns in the Bay Area of California. He has a large number of students from these regions, who are seriously learning from him.

Awards (Click to view enlarged images)

Adarsh Dombivalikar Purskar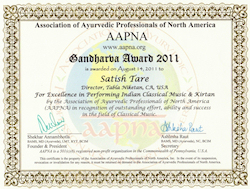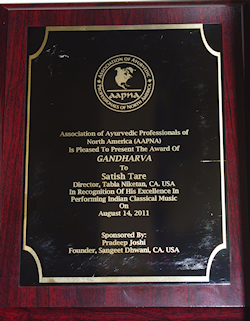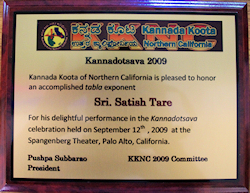 Shri. Madhusudan alias Satish Tare